Sustainable solutions to tourism mobility
Sustainable Tourism Mobility is a project coordinated by Visit Tampere in cooperation with The Baltic Institute of Finland and Tampere University. The aim is, together with some central tourist attractions and companies in the Tampere Region, to develop service concepts to encourage travellers to move from one place to another in a carbon-neutral way.
Carbon-neutral mobility is a key challenge in the Tampere Region tourism. At the same time sustainability and low-carbon choices are increasingly important values for the tourists. Tampere Region has the chance to answer the expectations with systematic development of services and co-operation between the different actors.
Themes for development and goals
Public transport and tourism companies need to promote combined tickets in addition to finding completely new solutions.
Utilizing the potential of rail connections and commuter trains – stations as service and tourism hubs
Service development based on the knowledge of tourist mobility and travel chains – data collection procedures, measuring carbon footprint, compensating solutions
Sustainable arrival in natural destinations – solutions of public transport and electric mobility
Versatile co-operation – key to success
Sustainable Tourism Mobility project taps into examples from European sustainable mobility, user-driven research and service design. Co-operation between destinations and companies started by the assessment of needs, on the basis of which some workshops will be organized. In the workshops the actors can, for example, develop co-operation in the field of combined tickets and service packages for public transport and cycling. In the project some central possibilities to develop sustainable mobility and targets are recognized, partnerships are created to put these into practice, action plans for sustainable tourism mobility of participating companies and destinations are designed. Also 3-5 service design experiments will be carried out.
New services for the tourism companies
In the project the co-operating companies are offered concrete models of designing services for low-carbon tourist mobility and the possibility to promote the aims of carbon neutrality in Tampere Region. The measures create new information on solutions in sustainable mobility services and their economic potential, as well as promotes co-operation and know how in developing sustainable tourist sector. The knowledge gained during the project can be applied in other areas and destinations, for example through Visit Finland's Sustainable Travel Finland -programme.
Sustainable Tourism Mobility project is funded by REACT -EU EAKR programme by the Council of Tampere Region. The Project continues till Aug, 31, 2023.
Sustainable Tourism Mobility seminar 29.8.2023
Our final event was held in Tampere Hall on 29th of August 8.30 – 13.00.
Follow live stream of the event here!
Seminar represented key results, service concepts and findings of the project. In addition to this we had inspiring commentaries and examples from Emma Moody of Lake District National Park, England, Helge Kjellevold of Lysefjorden Nature Area Development Norway and Nils Nyhus, Refurbishbike Denmark.
Seminar presentations can be found behind the links below:
AGENDA
8:30-9:00      Registration
9:00-9:05      Welcome, Johanna Leino, the Baltic Institute of Finland
9:05-9:15      Reflection on wider perspective: sustainable tourism mobility – destination level development, Matti Pollari, Visit Tampere Ltd.
9:15-10:00     Highlights and added value of sustainable tourism mobility action plans:
1) Seitseminen National Park, Sari Airas, the Finnish Forest Administration
2) Särkänniemi Amusement Park, Ville Aarresuo, Särkänniemi Ltd.
3) Serlachius Museums, Nea Kontoniemi, Serlachius museums
10:00-11:00 Sustainable tourism mobility service experiments – experiences and plans:
1) Outdoor Express, Pyry Rinkinen, Ecofellows Ltd.
2) Bike & Rail, Aleksanteri Repo, Kaakau Ltd.
3) E-Car Adventures, Tuulia Taipale, Avis Finland
4) Designing sustainable tourism mobility services: Insights from customer experiences, Kirsikka Kaipainen, Tampere University
11:00-11:15     Coffee break
11:15-11:30      Commentary and sustainable mobility development in Lake District National Park, Emma Moody, Lake District National Park, England
11:30-11:45     Commentary and possibilities for sustainable mobility in Lysefjorden nature area, Helge Kjellevold, Lysefjorden Development, Norway
11:45-12:00    Commentary and possibilities for sustainable mobility in Lysefjorden nature area, Niels Nyhus, Refurbishbike
12:oo-13:00    LUNCH
13:00               Outdoor Express experience: site visit, coffee and networking in relaxed atmosphere in Kintulammi hiking area and nature reserve (30 min bus drive from Tampere)
16:00               Back in Tampere, end of event
Project pilots and service concepts
E-Car Adventures – electric car rentals as sustainable mobility services for tourism
Avis Car Rental was selected as the partner of the E-Car Adventures for the conceptualization and experimentation of the service in Tampere University's trial. The idea is to create a new tourism service based on electric car rentals, combining environmental friendliness and flexibility in mobility. Travelers can rent an electric car through Avis' tailored service and embark on, for example, a low-carbon national park tour.
For the experiment, four route options suitable for electric car adventures have been designed for different target groups. Along the routes, there are various attractions and experiences for different tastes, as well as charging stations for electric cars. Explore Avis' electric car service and route ideas here!
The goal is to create a widely replicable service model, for which Tampere University will compile customer experiences from the trial. Share your feedback here!
Bike & Rail – unique experiences by train and bicycle
Bike & Rail combines bicycle tourism and rail transport, offering the opportunity for sustainable and experiential day trips in Tampere region.
During the summer season of 2023, Bike & Rail service is being tested in collaboration with the Serlachius Museums, the city of Mänttä-Vilppula and the Donkey Republic city bike service provider Kaakau. The idea is to assess how city bikes can be utilized as tourist bikes and complement rail connections for travelers.
You can hop on the train in Tampere, book a bike through the Donkey Republic app and pick it up at Vilppula station. With the bike, you can conveniently explore the museums and other experiences in Mänttä-Vilppula. Return the bike at Vilppula station and travel back to Tampere by train.
Outdoor Express
In the Sustainable Tourism Mobility project, the highly successful Outdoor Express nature bus service, which was tested in the autumn of 2022, continues in the summer of 2023 under the leadership of Ekokumppanit Ltd. The service is made possible through the collaboration of the City of Tampere, Metsähallitus Nature Services, the City of Ylöjärvi, Ruovesi, and Kuhmoinen. Visit Tampere is involved in marketing collaboration, and the project team has assisted in the planning of the service's continuation.
Outdoor Express is designed for both locals and tourists. The aim is to provide easy access to the stunning natural destinations in the region for all kinds of target groups, even without a personal vehicle. During the weekends in July and August 2023, Outdoor Express will operate to Seitseminen, Helvetinjärvi, and Isojärvi National Parks. Ticket sales are available on Matkahuolto's online store, and the service is operated by Atro Vuolle.
For detailed schedules and ticket information, please visit the Outdoor Express page.
Art Express – sustainably to cultural destinations
The Art Express concept emerged as part of a collaboration with the Serlachius Museums, applying the concept of Outdoor Express to cultural destinations.
Art Express takes culture enthusiasts to the Serlachius Museums, Nuutajärvi Glass Village, Visavuori and Voipaala Art Centre during summer weekends. The goal is to improve the accessibility of cultural sites and provide opportunities for sustainable day trips immersed in culture at the top destinations in Tampere region. The service is jointly implemented by the Serlachius Museums and Operaatio Pirkanmaa, with collaboration from Visit Tampere and Sustainable Tourism Mobility -project.
More info: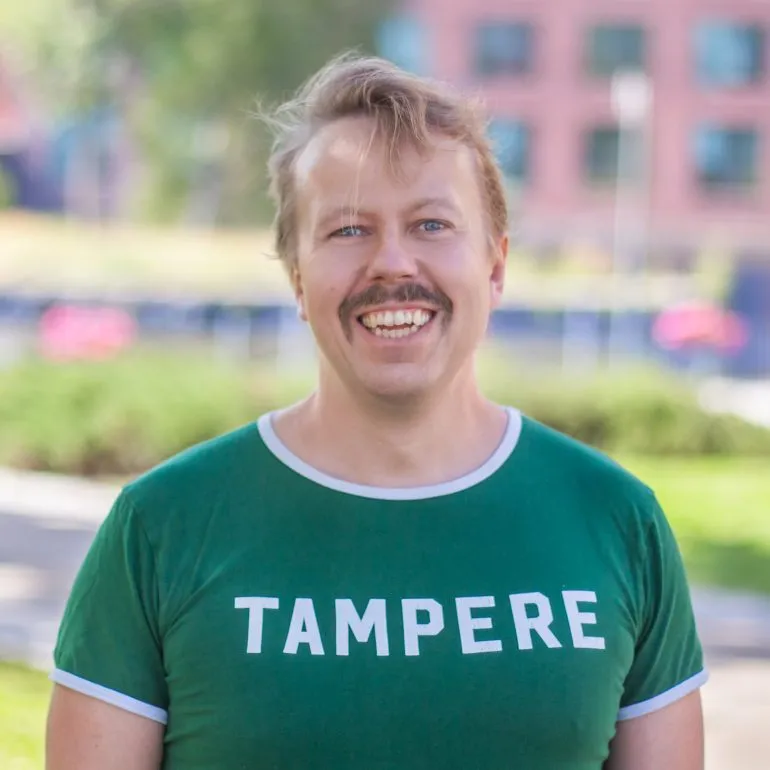 Matti Pollari
Project Manager, Sustainable Tourism Development
Working on carbon neutral tourism development, Sustainable Tourism Mobility project and coordinating Sustainable Travel Finland destination programme in Tampere and its region. Cycling travel and Pispala dear to my heart.